Life is funny. We get up day after day not knowing truly what lies ahead. I mean we can plan, we can plot, but in the end no one really knows what their day will hold. Or even if it will be their last. I don't often think like this, but when I do it reminds me of this scripture;
"Teach us to number our days, that we might gain a heart of wisdom." Psalm 90:12
I feel I look really wise in this picture. Do you agree?
Do you wonder sometimes,
"What if the Hokey Pokey really is what it's all about?"
LOL, we have that on a bumper sticker that our Momma Nash gave to us. And those of you that know us know that we know that the Hokey Pokey is NOT what it's all about so that's why it's so funny. But it does make you think. How many others think like this. Maybe you dear reader think like this.
"What is life really all about?" This is the question that has been asked I do believe since the beginning of time. I'm not going to say that I know what it is ALL about, but I do know some things that it is about.
Which brings me to this;
There are so many ways to live this life.
You can live with faith or without it.
You can live it with a person who is your person or alone.
You can live with hope or without.
You can live it with children or without.
You can live with LOVE, and I'm not sure that there is anyone who would want to live without Love, but I suppose you could live without LOVE. Put a pin in this one, we'll come back to that.
You can live with pets or no pets.
See, there really are so many ways to live life and only one will be your way.
Are you of the mindset that it should be your way or the highway?
Really? How's that working for ya? Report back here on your death bed with that one, Mr. "I did it my way" Oh how I love me some Sinatra... but at the end of my life that's not "THE WAY" I want to sing about.
No,I'm not of the mindset "my way or the highway" because I know deep down in my knower of another way.
I appreciate other ways.
I also know another who says
His way
is the best way to live.
I have lived His Way for quite some time, and
I have to agree with Him.
Well, I don't have to agree with Him, but I do agree with Him.
Because after all the 37 years of life that I have lived so far, His ways are THE most beautiful. Truly His ways are what I aspire to be my ways. Because ultimately His way is LOVE. Remember when I said, put a pin in that point up there? The point about living without LOVE?
Well, here's the thing, God is LOVE. I don't want to and can't imagine my life without LOVE.
I'm really
thankful
that I get the choice of how I want to live my life.
And now enough about my way, His way, your way... let's have some poetry and wrap this sucker up.
I Stepped from plank to plank
(Emily Dickinson)
I stepped from plank to plank,
A slow and cautious way;
The stars about my head I felt,
About my feet the sea.
I knew not but the next
Would be my final inch.
This gave me the precarious gait
Some call experience.
Linking up here with these other deep thinkers;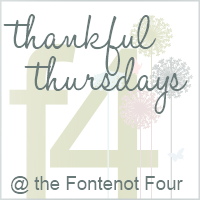 div align="center">