Who Could use a little Sunshine this morning? Umm.. ME! Pick Me, Pick Me! I know most of the country is sweltering with temps in the 100's right now, but sometimes it can get literally so grey and dark here in Seattle that I wonder if it isn't still night time when I first wake up. For real people. And I love the rain, but no one ever warns you of the GREY. We did get some sun yesterday and it was glorious!
Why am I talking with you about the weather you ask?
Well because on really grey days I want YOU to know beloved reader that you bring the Sun into my life.
I AM THANKFUL FOR YOU.
I know that's cheesy and that maybe this should be called the cheese ball award, but it's really true.
Since going public with my blog I have met so many wonderful, amazing souls that my life is so much brighter now from knowing.
One kind soul gave me a whole lotta sun last week in blog world. I'll tell ya why, but first let me introduce you to This sweet, amazing, beautiful, seriously inspiring LOVELY lady named Britt. She blogs here,
BeeLittleQueen
and if you haven't met her yet, head over there and tell her I sent you.
But wait... I wanna do a little of what I call BLAGGIN! It's blogging only bragging at the same time.
I want to BLAG a bit about my new friend Britt.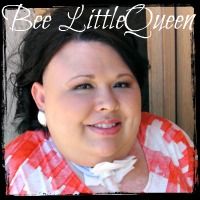 Her life is truly amazing, and to say that she is inspiring would be an understatement. Not only will she make you laugh, but she will create with you, find bargains for you, give you makeup tips and even actual make-up in her give-aways, she is family oriented, an animal lover AND she EVEN ... wait for it.... she EVEN has a TATTOO!! Shock and Awe I know!! That's my girl right there. Wearing the permanent ink like a champ! Do you know what else she wears a toe ring, that quotes my favorite bible verse and it is one of my TATTOOS. Faith, Hope, and Love, ... yep that's my girl. Really there is so so so much more that I could go on and on about. Truly she is a gem. And I am
thankful
, humbled and blessed to know her now because of blogger.
Okay I think I blagged her up pretty good, what do you think?
Last week she nominated me for a Blog Award. Did you know beloved readers that BLOGS have awards? Well, they do. There are awards for having so many readers, for having not so many readers, and then there is this award, The Sunshine Award.
"Bloggers who positively and creatively inspire others in the blogosphere".
Honestly, when she sent me the note about this nomination I felt like I had just won the Miss America pageant. Imagine me, teary eyed, waving my hands in front of my face and saying over and over Thank YOU, Thank YOU, Thank YOU!
Bah ha ha!! Sorry that is just so funny. Um... so NOPE I didn't do that, but all the same I feel very honored that she, that any of YOU would read what I write and be inspired by it. YOU all put the sun in my Seattle grey day! I know I already said that, but it needed to be said again.
Don't make me sing you are my sunshine. Don't make me do it.
So.... I kind of was a HUGE Regis and Kelly fan. Not so much a Kathy and Regis, or a Kelly stand-alone, but a Regis and Kelly fan fo surwa! That might seem random but if you were too then you remember their Relly Awards? Right? Okay that's what these blog awards kind of remind me of.
Okay moving on....
And now that I have gone on and on Like A Silly Miss America contestant, let me follow the rules of this here award.
Now that is gonna be the hard part because there are so many great blogs out there, but I will do my best to nominate only 10.
QUESTIONS
Favorite color? Well I am a Christmas child and so believe it don't, my favorite colors have always been Red and Green. My mom and dad even came dressed in Red and Green to my Graduation ceremony. How cute is that!
Favorite animal? Not very unusual I LOVE DOGS! Even though one bit me in the face when I was a teenager right by my left eye(23 stitches later) I still love them. I would have had to wear a patch like a pirate, if he had come any closer.
Favorite number? Hmmm... now see I don't really have a favorite number, I really don't Natalie!
Favorite drink? Well that would switch between Coffee and Wine depending on what time of the day it is.
Facebook or Twitter? Well now that is just not cool. Can I say neither. BLOGSPOT all the way baby!! I wish the whole world would switch to Blogspot. Bloggers Unite!!
Good book or good movie? BOOK totally dude(ha ha I just said dude) sorry for shouting but this is a big-un for me. If I know a book is going to be made into a movie I have to read the book first before watching the move. Does anyone else agree with me here? Otherwise it's just someone else's imagination. I much prefer my own. At least when it comes to casting the main characters.
My passion: I am passionate about Three things, To know Christ more fully, To serve Him more humbly, and To truly, deeply, faithfully, Love the People He has blessed me with in this life. I will spend my whole life on this alone.
Giving or getting presents? Giving. I don't really feel like I have the best reaction when getting presents. Refer to Miss America joke above. I am SO not that girl! I don't want to over react so I tend to under react I think. I Dunno.
Favorite day? The obvious would be The day I became MoNoSco, my wedding day, and My children's birth- days.
Favorite flower? The Sunflower. I found out a long time ago, actually it was one of my first blogs here in 2005 that an actual real Sunflower will follow the sun through out the course of a day. It made me love it all the more.