This week we had kind of a Matthew Broderick marathon with two of his older movies when he looked even more baby faced than he does now.
Any guesses for one of the movies that was a must see for a flashback movie of his?
Yep, you can't say Matthew Broderick without saying Ferris Buehler.
In fact I think I thought that was Matthews name for the longest time.
I love this movie so much because it reminds me of my High School career.
Shhh... don't tell my kids, but playing hookie was one of my favorite things in all of the world.
I got decent grades and was a good kid, but I definitely was and still am a home body. My mom didn't mind having me home though, she enjoyed the company I think so I was never sneaky like Ferris.
Still, this movie I might suggest watching without the kids. Learn from our mistake we watched it with our Fab 4 and one child in particular who is at a very impressionable age, ahem... Solomon my 11year old, tried very hard at the beginning of the week to follow in Ferris footsteps. It was actually quite funny. He is a home body too, bless his little heart, just like his momma. So all my training and experience came in handy and I am happy to report he didn't miss a day this week. Tried as he might.
The other Matthew B. movie we watched last night was Biloxi Blues.
I had never seen this movie and My Giant could hardly believe his ears when I told him, Nope. Never saw it! I started to realize about 2 minutes in why I had never seen it, because it is without a doubt a mans movie. It's about a bunch of soldiers who are going to boot camp for World War 2. Matthew plays the role of a want to be writer who journals everything that happens while he's in boot camp. They have all kinds of funny mis-haps and also a moment in the movie where as the momma of 2 young boys I was praying, "Dear God- please protect my boys from this" you will see what I'm talking about half way through the movie. Here's a hint- the scene involves a lady of the night. Enough said.
And now onto our Flashback Posts in the Blogosphere....
If you are new here first off Welcome and let me give you the 411 about this little link up I run.
It is for older blog posts. I used to ask that they be a year or older, but I don't have time to check all of that and besides I figure if you have taken the time to link up something you want others to read, who am I to tell you from what calendar year it has to be from?
The point is ... link up, have some fun, read and please comment on at least one other link up and have fun! Oh I know I already said have fun, but I really want to emphasize HAVE FUN, it's FRIDAY after all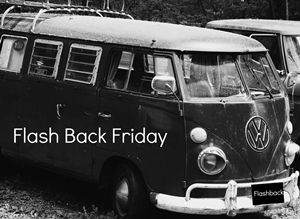 *Oh, if you want a cute lil button to spread the word about this link up, they are over there on the right.